| | |
| --- | --- |
| | Zerstörer Udaloy Klasse Admiral Zakharov PitRoad 1/700 |
Informationen zum Origina (quelle1, quelle2):
Die Udaloy-Klasse (NATO-Codename, russische Bezeichnung: Projekt 1155 Fregat, dt. Fregattvogel) ist eine Klasse russischer Zerstörer. Die Einheiten dieser Klasse wurden während der 1980er-Jahre gebaut und sind zum Teil noch heute bei der russischen Marine in Dienst.
Udaloy I class
Entered service
1980
Crew
220 - 249 men
Sea endurance
?
Dimensions and displacement
Length
163.5 m
Beam
19.3 m
Draught
7.5 m
Displacement, standard
6 700 tons
Displacement, full load
8 500 tons
Propulsion and speed
Speed
29 knots
Range
?
Propulsion
COGAC; 2 x M62 gas turbines developing 55 500 shp
Aircraft
Helicopters
2 x Ka-27 Helix
Armament
Artillery
2 x 100-mm DP guns, 4 x AK-630 30-mm CIWS
Missiles
2 x quadruple Rastrub (SS-N-14 Silex) ASW missile launchers (no reloads), 8 x Klinik (SA-N-9 Gauntlet) SAM launchers (64 missiles)
Torpedoes
2 x quadrupple 533-mm torpedo tubes
Other
2 x RBU 6000 ASW rocket launchers, rails for 26 mines
Bausatz/Zubehör:
Als Basis des Modells, diente der Bausatz von PitRoad. Weiter fanden Ätzteile von GMM (Gold Medal Models) Russische Zerstörer wie auch die 1/700 Besatzung von Eduard verwendung. Gealtert wurde das Modell mit dem Wheathering Master Set von Tamyia.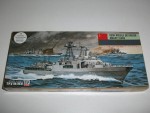 Bilder des Modells: